Introduction
Genostack is a cloud computing platform base on Openstack. It provides compute resource on-demand.
Genostack aims to replace Genocloud as the Genouest cloud computing platform.
Lexicon
User : The owner of an account. An user can be in several projects at the same time. Only one project is active at one time, the user can switch at will between projects he has access to.

Tenant : A project. Each user has a private project. He can be added to a group project if needed. Each project has is own set of instances, volumes, private images and security groups.

Instance : A virtual machine created by an user.

Volume : A virtual disk, able to store data or instances. Can be created by an user. Need to be attached to an instance to transfer data.

Security group : A set of permission regarding access to instances (such as ssh access)

Image : The "model" for booting a new instance.
Overwiew
Genostack provide roughly the same service as Genocloud did : allowing users to create and use virtual machine pour computation. The usage workflow remain the same:
Creation of a custom VM by the user, either from scratch or with a template
Secure access and computing by the user
Deletion of the instance
Genostack brings the volumes to the table, allowing the user to store and share data and images.
Scope
In Genostack, all users are in a private tenant. Only them have access to their private images and instances. Instances, private images, security groups and volumes are in the scope of a tenant (If you change tenant you will not be able to use them). SSH keys are in the user scope (You and only you will be able to use them, no matter the project)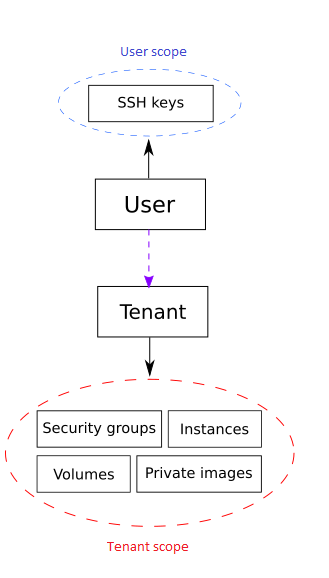 Tenants however are not restricted to one user. Access to a group project with other users can be granted on demand, allowing them to share data and instances.